Current Issue
Vol. 16 No. 2 (2023): Challenges of religious communities in European secular states and beyond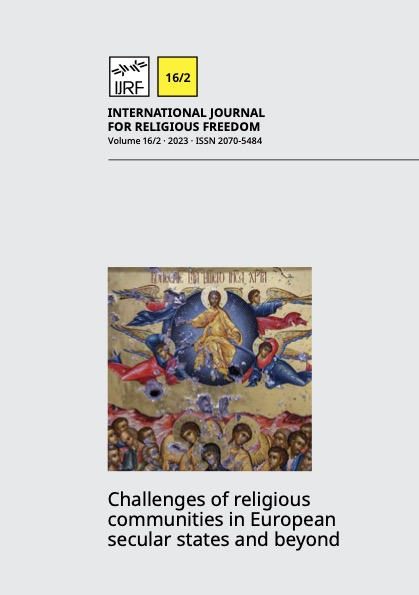 The theme of secularism and its impact on religious freedom is an important one. This issue builds on our previous issue on secularism from 2020, "Responding to secularism," vol 13(1/2). This issue explores the challenges of secularism from legal, political and statistical perspectives. This provides a rich array of perspectives.
We are pleased to welcome two guest editors from the Evangelische Theologische Faculteit (ETF) in Leuven, Belgium for this issue. Prof Dr Jelle Creemers is Dean and Professor of the Department of Religious Studies and Missiology. Dr Tatiana Kopaleishvili is an Affiliated Researcher in Religious Studies and Missiology. As they explain below, the papers in this special issue come from their annual conferences addressing religious freedom issues. As a journal dedicated to religious freedom, we are grateful for the work of the ETF in Leuven!
As usual, we have a good variety of book reviews and our regular Noteworthy section highlighting current reports on religious freedom from around the world.
Yours for religious freedom,
Prof Dr Janet Epp Buckingham
Executive Editor
THIS ISSUE WILL BE AVAILABLE SOON!
View All Issues