Current Issue
Vol. 16 No. 1 (2023): The impact of the COVID-19 pandemic on religious minorities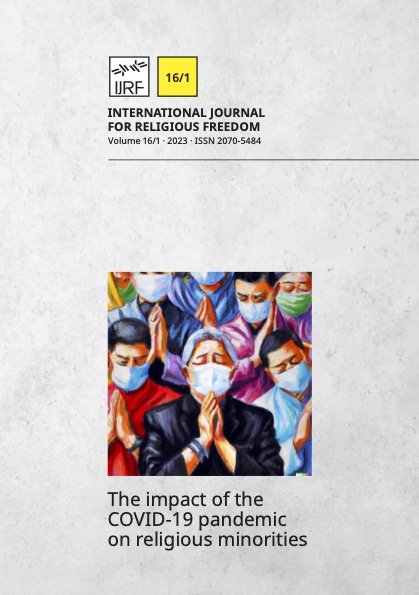 The COVID-19 pandemic was more than a health crisis; it had a disproportionate impact on minorities, including religious minorities. We are pleased to publish this special issue on religious freedom in the age of COVID-19. It is a timely analysis of the crisis from a variety of perspectives. While the IJRF has typically had its major focus on persecution of Christians, this issue addresses many religious minorities. It is important to recognize that while diverse religions experience persecution, the experiences of persecution are similar.
We are pleased to welcome two guest editors for this issue. Adelaide Madera is a Full Professor at the Department of Law of the University of Messina, Italy, where she currently teaches Canon Law, Law and Religion, Comparative Religious Laws, and Religious Factor and Antidiscrimination Law. Since 2020, her research has focused on the impact of COVID-19 on religious freedom and the evolution of church-state relationships.
Kerstin Wonish was a PhD researcher in the field of religious minorities at the Institute for Minority Rights at EURAC Bolzano until 2022. With a background in law and religious studies she studied the accommodation of Islamic pluralism, religion and gender, and religion and human rights.
In addition to the thematic articles, I note a short "In my opinion" article by Kyle Wisdom about his project with the International Institute for Religious Freedom on "Good practices to reduce, resolve and prevent religious conflict". The IIRF is looking for input so please consider participating in this project. As well, we have an interesting selection of book reviews.
We are also very pleased to have a new look for the journal. A hearty thank you to Ben Nimmo of Solid Ground for the new design.
Full Issue
View All Issues