Vol. 15 No. 1/2 (2022): Refugees and religious freedom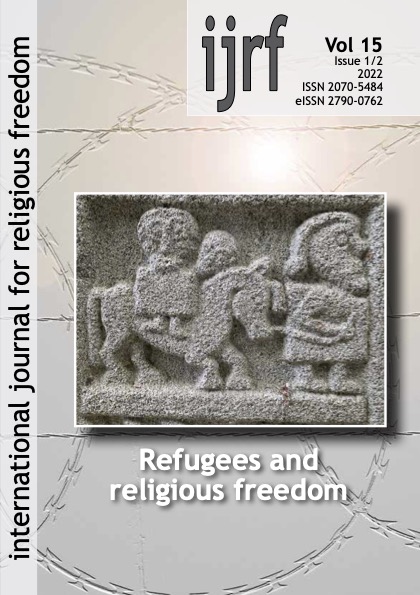 In 2014, I joined the European Religious Liberty Forum of the European Evangelical Alliance and Advocates Europe. The issue of freedom of religion and belief (FoRB) for refugees was high on the agenda. In the Netherlands, I had been campaigning for better asylum procedures for Christians, especially those coming from Muslim countries, and also for a better understanding of religious persecution within the
Dutch reception centres. I was pleased to become networked with international specialists on these issues. Subsequently, I was asked to introduce the subject at meetings of the Refugee Highway Partnership (RHP).
In 2021, the Refugees and Religious Liberty Task Force was created as a joint initiative of the Religious Liberty Partnership, the RHP and the World Evangelical Alliance. The idea was suggested that a special issue of the International Journal of Religious Freedom should be dedicated to refugees and FoRB. This issue brings together two opinion pieces and seven articles of interest on several related topics, ranging from the acts of religious persecution that cause people to flee, on one hand, to the reception of refugees in countries of asylum, where they often find that their religious liberty is still at risk.
The two opinion pieces include theological reflections and research on aspects of freedom of religion in Nicaragua. Mark Glanville, associate professor of pastoral theology at Regent College, Vancouver, introduces us to the biblical ethics of kinship for people on the move and its meaning for our attitude towards refugees. God's family includes people of all cultures and nations. Rossana Muga Gonzales, of Open Doors, and Teresa Flores Chiscul, of the Observatory for Religious Freedom in Latin America, discuss the impact of the Sandinista dictatorship on the freedom of religion and the freedom of expression of the churches in Nicaragua that causes, among others, forced displacements and exile of Christian leaders.
The articles are focused on issues of refugees and FoRB in Europe and Africa. Kareem McDonald, a PhD fellow at the University of Padova, Italy, explains why the issue of religious freedom for asylum seekers and refugees is so important. Next, Iwona Zamkowska, a professor at the University of Technology and Humanities of Radom, Poland, considers the emergence of Islamic State-instigated terrorism in the Sahel, focusing specifically on Burkina Faso. Although the country has a history of religious tolerance, she warns that international neglect of the effect of jihadism on the Christian community could have a lasting negative effect on the well-being of internally displaced Christians.
Olanike Adelakun, lecturer at the American University of Nigeria School of Law and a gender justice expert, and Adedayo Adelakun, a graduate student, introduce the role of religious practices in limiting women's participation in peacebuilding processes in northeast Nigeria, which may threaten sustainable peace and lead to the recurrence of conflict.
Paul Diamond writes about issues between countries of origin and countries of asylum. He is a British lawyer who specializes in matters of religious liberty. His article evaluates the UK's Vulnerable Persons Resettlement Scheme for Syrian refugees and concludes that religious minorities in the country of origin were disproportionately overlooked and rarely benefitted. Diamond fears that the same thing will happen with the current Afghan Citizens Resettlement Scheme and warns about such 'wilful blindness'.
Moving to the reception of refugees in countries of asylum, we have a contribution by David van der Maas, who studied the influence of secular humanitarian discourse on religion, religious minorities, and policy practice, especially in Dutch reception centres, during a traineeship at the WEA. He demonstrates that religious liberty can be compromised because of the religious illiteracy of reception centre staff.
Religious liberty can also be at stake in the process of handling religion-based asylum claims. Adelaide Madera, a professor who studies the interrelationship between law and religion, reflects on European trends and the diversity of attitudes across European countries, with a special focus on Italy. She shows that European countries could more effectively safeguard the essential core of religious freedom. Lidia Rieder, of ADF International in Vienna, also discusses the complexity of credibility assessment in asylum claims involving religious conversion, examining the UK and Germany. She concludes her contribution with a helpful list of best practices and recommendations to ensure a more objective approach.
I believe this special issue offers important insights that will aid the promotion of religious liberty for all, and especially for refugees and asylum seekers who often find themselves in vulnerable situations.
Yours sincerely,
Dr Marnix Visscher
Guest editor