Vol. 15 No. 1/2 (2022): Refugees and religious freedom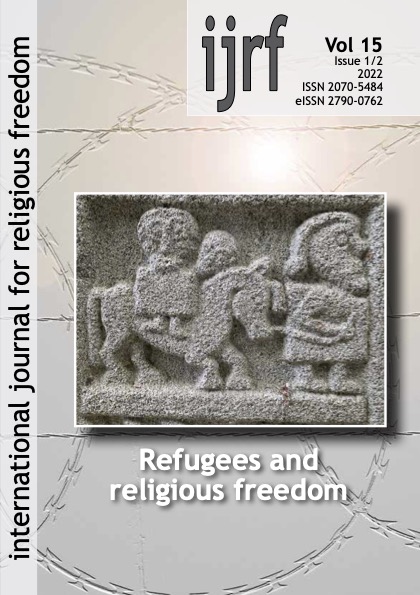 We are delighted to publish this special issue on Refugees and FoRB. It is a very timely issue in more ways than one. It is the first issue in several years that is being published in the year that it is dated. The 2019 issue, a special issue on the impact of religious freedom research, contained two articles on refugees and FoRB. We commend those articles by Kareem McDonald, a study on religious refugees in Dan-ish asylum centres, and me, examining the role of religious freedom research in the Canadian refugee determination system, to add to the fine collection in this issue.
We are very pleased to have Dr Marnix Visscher guest edit this issue. He has been working with the Dutch Gave Foundation since 2008. The Gave Foundation supports and trains churches and individual Christians for ministry among asylum seekers and refugees in the Netherlands. During Dr Visscher's initial years with the foundation, Gave faced an increasing number of questions on issues of religious liberty regarding asylum seekers. The concerns included discrimination against and even harassment of religious minorities in the reception centres, along with how to assess asylum claims based on the fear of religious persecution. Dr Visscher took the initiative to form a judicial support team, campaigning for the rights of religious minorities in the reception centres and supporting asylum lawyers with expert reports based on the case files of individual asylum claims. Most of these reports assessed the credibility of the claimant's conversion. The expert reports provided by Gave have had a significant impact on the outcome of asylum claims. Moreover, the work of Dr Visscher and his team has shaped important decisions on higher appeals, which in turn initiated further improvements in the decision process. Dr Visscher is also involved in the training of asylum lawyers and in consultations with the Dutch government.
Yours for religious freedom,
Prof Dr Janet Epp Buckingham
Executive editor